How L-Carnitine and Taurine Work
There are endless studies showing the benfits of L-Carnitine and Taurine on humans and animals, too many to list here, most can be found at www.pubmed.com.
L-Carnitine is a natural protein like substance that enables cells to carry fuel (fatty acids) to the heart. When a dog is unable to synthesize carnitine or is not getting enough, the fuel does not reach the heart resulting in heart disease.
Taurine is an amino acid that is found in muscles, it is most abundant in the heart tissue. It maintains cell membranes, regulates heart beats, protects the heart from calcium overload and one study showed it to be more effective than CoQ10.
To get a little more technical, Carnitines job is to carry fatty acids in to the mitochondria. Fatty acids are metabolized by the mitochondria within the cell. Each molecule of fat must be attached to a molecule of Carnitine in order to be transported across the mitochondria. After the fat has been metabolized in the mitochondria and has generated the energy ATP, Carnitine is again needed to remove the waste product from the mitochondria.
Canine heart disease including DCM is believed to be caused by deficient diet, poor genetics (poor breeding etc.), the inability to synthesize carnitine and taurine naturally in the body or a viral cause.

A healthy dog produces L-Carnitine and Taurine naturally by using vitamins and amino acids obtained through a healthy diet (Lysine, Methionine, B6 etc.). Yet some animals are unable to synthesize Taurine and L-Carnitine even with proper nutrition and this can lead to a deficiency causing heart disease including DCM.

Carnitine Can Be Dangerous
You must be careful of the quality of Carnitine used as many of the Carnitine supplements on the market can contain dangerous forms of D or DL-Carnitine which can be extremely toxic. It is only pure L-Carnitine which is biologically active and 100% safe.
Some L-Carnitine is derived from the dangerous D form of Carnitine as it is much easier and cheaper to produce. Although it is banned in the US because of its danger, you must be aware of less reputable companies possibly using D-Carnitine mixed in with L-Carnitine supplement. There are only a few major manufacturers which produce pure L-Carnitine without using D-Carnitine to start.
To ensure the safety of customers we use only 100% pure L-Carnitine in our formulation.
Our formula comes in a one month supply for a 40 pound dog. It contains 120 grams of L-Carnitine and 60 grams of Taurine. For dosage information click here.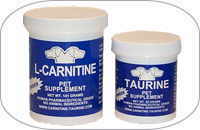 Most affordable L-Carnitine and Taurine supplement on the market so you will have more money for dog toys!
Human Pharmaceutical Grade means your dog will enjoy 100% of the benefits of L-Carnitine and Taurine
Powdered with scoop for quick and easy use
Try it risk free!
My goal is to offer you the highest quality most affordable L-Carnitine and Taurine supplement for pets. I beleive in our product so strongly that if for any reason you are not satisfied just return your purchase within 30 days for a full refund (minus s&h costs).
Order now and for a limited time
I will include the one month supply of Taurine FREE.
Plus FREE, Fast Worldwide Airmail Shipping!
Only $59.99
...