Is an L-Carnitine or Taurine Deficiency the Cause of Your Dog's Heart Disease?
There's Only One Way to Find Out.
It is so devestating when the vet gives you the bad news that your dog has heart disease and tells you to take him home and keep him comfortable as his days are numbered.
It does not matter what they call it, either an enlarged heart, a murmur, DCM (dilated cardiomyopathy) or heart failure, it's heart wrenching to learn that your closest companion may not have much time left to live. What is even more bothersome is that the vet can't tell you why.
Your head is spinning with questions; How could this be, just last week he seemed so healthy? What could have caused this? Is there a cure?
Those were my questions over seven years ago when two of my dogs were diagnosed with heart disease. Within a few months of each other my two boys, seemingly healthy, who would run and play all day long started showing signs that something was not right. My worst fears were confirmed when the vet told me they had heart disease.
"L-Carnitine and Taurine deficiency cause heart disease"
I wanted answers that no one was able to provide. I found out that L-Carnitine and Taurine deficiency can cause heart disease in dogs and this lead me to even more unanswered questions. I did learn that there is no way of telling if your dog is actually deficient without a biopsy of his heart tissue, which are not routinely performed on living dogs. Although some veterinarians may tell you there are blood plasma tests you can do, these are NOT accurate. It has been clinically proven that a dog's blood plasma can show normal concentrations of L-Carnitine and Taurine while their heart tissue is deficient.
I began to read anything and everything I could get my hands on that pertained to canine heart disease and carnitine and taurine. I found that L-Carnitine and Taurine supplementation absolutely works for dogs with deficiencies. The results of some studies were so amazing that dogs were actually taken off their meds because the carnitine and taurine worked so well.
"...Of all antioxidant and cardioprotective compounds studied, L-carnitine, typically used in combination with taurine, has shown the greatest direct effect on improving life expectancy and mortality rates in some animals with congestive heart disease...
Additional research shows that carnitine supplementation in dogs with taurine deficiency can allow conventional cardiovascular drug therapy to be discontinued in some cases. While myocardial function did not completely return to normal in all animals treated with carnitine therapy, it provided the dogs a normal quality of life for months to years.(1)*
L-carnitine can improve heart rate, lipid patterns, and exercise tolerance, and protect against cardiac necrosis, all of which are important to returning an animal to normal cardiac function. It is valuable to understand L-carnitine in relation to taurine deficiency and supplementation, as the two nutrients have interrelated roles in management of heart disease in dogs. (2)*"
Alternative Medicine Review, Sept, 2001 by Robert S. Dove * references
"Don't let your dog's death confirm his deficiency"
Don't wait, start supplementation immediately, why risk your dogs future. I started right away and it's been three years and my dogs have made an amazing recovery they no longer have any signs of heart disease and their ultrasound exams show unbelievable improvement. Not too bad for the 6-12 month life expectancy the vet gave them. All because of a new diet and supplementation with L-Carnitine and Taurine. Click here to see the program I followed to heal my dogs of their heart disease.
The sooner you start your dog on L-Carnitine and Taurine the sooner you will see improvement in his health. More energy, increased appetite and increased exercise tolerance just to name a few.
"Supplementation is the only way to find out if your dog is deficient"
L-Carnitine and Taurine Supplementation:
Safe to use with medication
No side effects
Improves heart function
Regulates heart beats
Improves exercise tolerance
Builds lean body mass
There are heart supplements formulated for dogs that contain L-Carnitine and Taurine. Unfortunately the amounts of L-Carnitine and Taurine in them are so small they won't help a dog with a potential deficiency. So I formulated my own, simple, no fillers just pure L-Carnitine and Taurine. It comes powdered to make it easy on you so you don't have to mess around with trying to put capsules down your dogs throat. A 60 pound dog would need over 20 capsules per day! Could you imagine trying to get your dog to swallow over 20 pills? It's hard enough getting most dogs to take just one!
Our formula comes in a one month supply for a 40 pound dog. It contains 120 grams of L-Carnitine and for a limited time we are including a 60 gram bottle of Taurine FREE. For dosage information click here.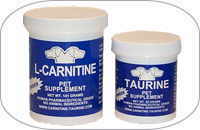 Most affordable L-Carnitine and Taurine supplement on the market so you will have more money for dog toys!
Human Pharmaceutical Grade means your dog will enjoy 100% of the benefits of L-Carnitine and Taurine
Powdered with scoop for quick and easy use
Try it risk free!
My goal is to offer you the highest quality most affordable L-Carnitine and Taurine supplement for pets. I believe in our product so strongly that if for any reason you are not satisfied just return your purchase within 30 days for a full refund.
Order now and for a limited time
I will include the one month supply of Taurine FREE.
Plus FREE, Fast Shipping Worldwide!
Only $59.99
...

Please feel free to contact us for any further information.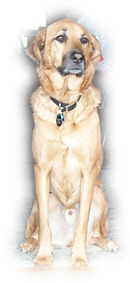 "...it's been seven months since Carnie's been taking your carnitine and taurine...instead of watching her get worse my vet says she has made a vast improvement..."
Joe D.
azzurri2003@rogers.com
"My dog has more life in him now than before he got sick, if you met him now you would never know he had heart disease...I cannot thank you enough for all your help and information."
Liz S.
esambrook@supplychain
alliance.ca
"Defor's getting on well with the Carnitine/Taurine; as you said, they're absolutely taste and odour free, so I can just mix them in with his normal food, which makes life easier!"
Neil McLeavey
New Eltham, UK